WHY SHOULD I CHOOSE ST. MICHAEL'S SCHOOL?
St. Michael's Catholic School is an Independent Elementary School within the City of Trail, British Columbia.  We foster a strong foundation of faith and academics and ensure high standards of education and discipline to naturally develop intellectually global citizens.  Our faith-centered, family environment challenges and nurtures the learner. 
DOES MY CHILD HAVE TO BE CATHOLIC?
No. St. Michael's School welcomes all families who are open and willing to learn our Catholic Faith. Our faith curriculum strives to develop strong capable young people who have positive perceptions of themselves and have the confidence to take risks to Lead, Love and Learn.  Our faith is immersed within our school setting to provide opportunities for students to make good decisions and good judgments to cope with the many new challenges in today's world.  We lovingly show the way, prioritizing the teaching of interpersonal skills so they can relate well with others and leave our school with a well-developed spiritual life and empathy for the world around them. 
You can accomplish great things with the tiniest bit of Faith  (Mathew 17: 14 – 20).
Do you have small Class sizes?
No, we promote a small school setting.  Within our care are approximately 150 Kindergarten to Grade 7 students from across the Lower Columbia region.  Students commute from Trail, Castlegar, Rossland, Montrose and Fruitvale communities.  
Is St. Michael's a Private School?
No, our school is considered a Group 1 Independent school.  The school operates as a charity, and it is funded by a variety of sources.  Our primary resource for funding is an annual BC Provincial Government grant that equates to 50% of the funding provided to institutions in the public school system.  Additional funds are derived from supporting church parishes, tuition, private donations, and fundraising. 
Outreach
St. Michael's is proud to teach our students to "serve" others. With this in mind we offer many "outreach" opportunities within our community. Listed below are just a few of those opportunities.

Christmas caroling at various neighbourhood venues, food collections for local organizations, inter-generational projects such as prayer cards to seniors and the vulnerable, contributions to Development and Peace and the Holy Childhood Association.
Achievement
St. Michael's offers an abundance of award opportunities from academics to sports and leadership. We have found these awards to be powerful positive motivators for our students.


Sports Teams
St. Michael's offers a variety of extracurricular team sports opportunities as well as an annual Track & Field competition and Cross Country run.
Home of the Saints
Whether it's basketball, volleyball or something in between, St. Michael's has something for every child that will help keep them motivated and moving!
St. Michael's also competes in the Annual Knights of Columbus Free Throw Competition.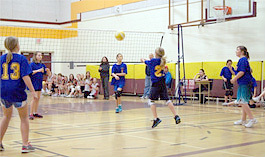 Field Trips & Activities
St. Michael's offers a variety of field trip opportunities throughout the year depending on the curriculum, student interest, and teacher initiative. 
Field Trip Activities
Ski & snowboard days at Red Mountain Resort in Rossland, theatrical performances in Spokane, WA, Golf training at Birch Bank Golf course,  visiting the Creston Wildlife Center, and our year-end graduation field trip to either Blue Lake or Silverwood in Coeur d'Alene Idaho are just some of the fun and active adventures the students have experienced in the past.  
School Clubs
The Green Team (GECKO Club)
The Gecko club or God's environmentally caring kids organization is a group of students who meet regularly at lunch and recess to recycle, compost and promote other environmentally friendly activities.
St. Michael's School Choir
Directed by Mrs Elizabeth Stephens, and supervised by Mrs Chioccarello, the school choir performs regularly at many school and community functions.
The Certificate of Merit is presented to students in Grades 4 through 7at each report card term for exemplary effort.

The Principal's List recognizes students at each reporting term who achieve percentages equivalent to a 3.5 grade point average. Students who are on The Principal's List for all three reporting terms are then listed on the Honor Roll.

The beaver Valley Lion's Club presents a semi-annual "BUG" award to students selected by their teacher for any actions which promote a positive atmosphere in the school. The "BUG" award is a pin with a uniquely hand-crafted stylized insect on it.

The Kootenay Kids Calendar contest is organized by the Kootenay Savings and Credit Union. The artwork of St Michael's students has often been chosen for representation in the KSCU calendar.
Many St Michael's' students have also had their essays and/or posters chosen for the Veterans' Week Essay and Poster Contest publication.

St Michael's hosts an annual Science Fair. Participants may compete in categories of research, experimentation or innovation. Local winners then compete in the regional Science Fair.

St Michael's students also compete in an annual Speech contest.  Students choose their topic, practice and present before a panel of guest judges. Winners are awarded trophies.
St Michael's School began as a Catholic kindergarten, operated by the Sisters of St Joseph of Peace in St Anthony's Parish Hall. On March 11, 1949, a planning committee met to explore establishing a full-fledged school. The late Kevin Molloy has been recognized as the driving force behind the project. St Michael's School opened in 1953, staffed by the Sisters of St Joseph. At that time, the school had four classrooms and 105 pupils, from Kindergarten to Grade 4. In 2003 the School celebrated 50 years of Catholic education in the Trail area. Today the school enrolls students in Kindergarten to Grade Seven. There are eight classrooms, a library, and a computer lab in the original facility. In April 1988, an extension to the building opened. This extension includes a seminar room, a fully equipped kitchen, and a large gymnasium.
We welcome you as parents to our Catholic community. We invite you to take an active role in your child's education, to maintain a healthy and positive rapport with staff, to support and encourage your child in all of the activities in which they will partake, and, most certainly, to volunteer as required for the many events that will take place. The gift of an education at St Michael's is truly a great one, something that will last a lifetime. Welcome!
Mrs. Julia Mason